After the latest round of beta test, LiteRadio 2 is back to the market with the huge improvements based on the original version.
FEATURES:
Supports Frsky protocol, easily change Frsky D8, Frsky D16 FCC and Frsky D16 LBT mode (The default version is Frsky D16 FCC)
Built-in charging module, support USB charging
Adopted the rubber coat and add weight, makes it more ergonomic
Add vibration motor, provide a vibrating prompt
Redesign the power button, make it crystal clear and better for the LED indication
Designed for FPV racing starters, and supports Bayang protocol and Frsky
Protocol (D16/ D8)
LiteRadio 2 is powered by OpenTX firmware. Totally 8 channels and has a hobby-grade gimbal.
This radio transmitter acts as a USB Joystick when connected to a personal computer. So you could use it to play FPV simulator like EREADRONE
The trainer function is available for this LiteRadio 2 transmitter. It is useful for FPV racing student in training
LiteRadio 2 transmitter runs the OpenTX 2.2.4 firmware. OpenTX comes with a computer-based graphical user interface, OpenTX Companion. Pilots could use OpenTX Companion is trim the gimbal central value
With the hobby-grade gimbal and adopted the rubber coat, makes it more ergonomic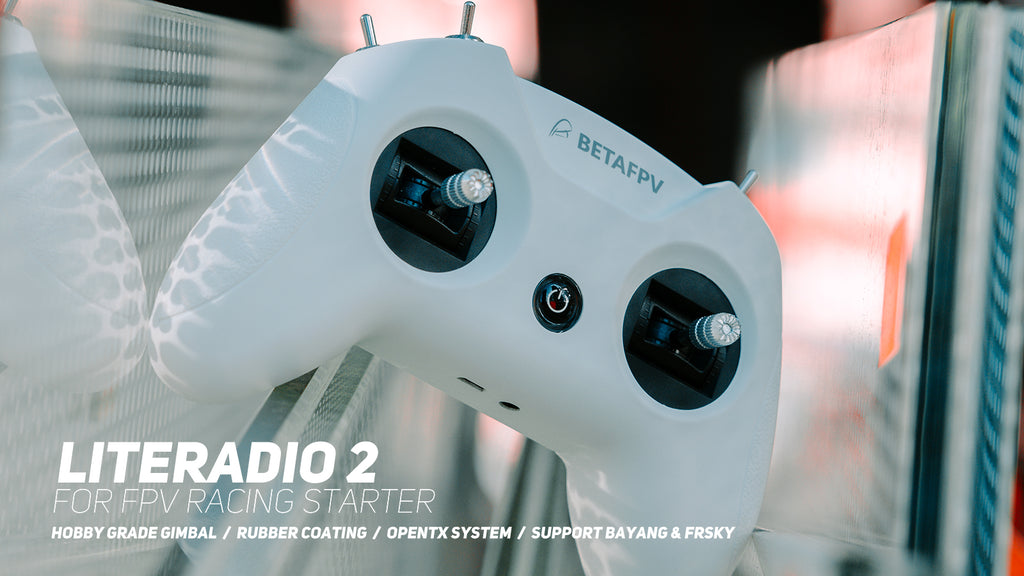 SPECIFICATIONS:
Item: LiteRadio 2
Frequency Range: 2.4G (2403MHz-2447MHz)
2.4G System: NRF24L01 or CC2500
Channel: 8
System: Bayang Protocol / Frsky Protocol
Power: ≤80mw
Model Type: Multi-rotor
Support USB Charging
Support FPV Simulator Connected
Output: PPM, support Student Radio Mode
LED Light: Green-Power On / Red-Warning / Blue-Normal
Battery: 350mAh 2S Battery
Weight: 227.4g (with battery)
INCLUDES:
1x  LiteRadio 2 Radio Transmitter
1x 350mAh 2S Battery
BATTERY SAFETY:
Batteries should NEVER be left unattended while charging.
Be absolutely sure that the Lithium Polymer charger settings are correct for the battery pack being charged – both voltage and current settings.
Lithium Polymer must be CHARGED and STORED in a fire-safe container like a Lipo Sack.
Do not charge batteries near flammable items or liquids.
Keep a dry fire extinguisher nearby or a large bucket of dry sand, which is a cheap and effective extinguisher.
Never charge inside an automobile even when parked.
KEEP BATTERIES AWAY from children and pets at ALL times.
Never discharge below 3.5V per cell as it may cause permanent damage and void warranty
Battery may explode if damaged or disposed of in fire
Never leave batteries inside a car on a hot day or any other place where temperature may exceed 140F / 60C.
Although environmentally friendly, lithium polymer cells must be FULLY discharged before disposal. Use a resistor setup (light bulbs, for example) to accomplish this, to avoid the possibility of a short-induced fire after disposal.
Immediately discharge damaged batteries at 1/2 C rate and dispose
Do not put the loose cells in a pocket, bag, or drawer where they could short-circuit against other items, or the battery tabs could be pressed against each other.
Take care that the cells are not punctured, especially by metallic objects like hobby knives.
If the electrolyte in the cells should get on your skin, thoroughly wash with soap and water. If in the eyes, rinse thoroughly with cool water. Immediately seek medical attention for this, or for burns.